'Pitbull's New Year's Revolution' on Fox 2015: Performers, Time and How to Watch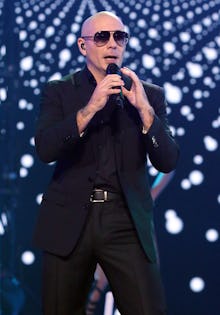 Alexander Tamargo/Getty Images
For the second time, Pitbull is ushering in 2016 with a live televised special called Pitbull's New Year's Revolution on Fox. The event, which will be filmed from Pitbull's hometown of Miami, will air on Fox on Thursday at 8 p.m. and end at 12:30 a.m., with a news break from 10 p.m. to 11 p.m.
"It's about getting everything out of that crowd, getting everything out of the city, getting everything out of New Year's Eve and showing it to the world," Pitbull said, according to USA Today. 
Who will appear and perform: Joining Mr. Worldwide will be hosts Terry Crews from Brooklyn Nine-Nine and Wendy Williams, according to USA Today. Audiences should expect performances from stars such as Diddy, Timbaland, Shawn Mendes, Pia Mia and Earth, Wind and Fire.
Taraji P. Henson and Jussie Smollett from the Fox series Empire will also take the stage, the Orlando Sentinel reported.
Miss Colombia Ariadna Gutierrez, who was mistakenly crowned as Miss Universe earlier this month, will also appear in the New Year's special, according to the Orlando Sentinel. 
Why Miami: Although New York City is thought of as the American hub for New Year's celebrations, Pitbull and residents of Miami, with its warm weather, can establish themselves and their own traditions. 
"We want to show the world how Miami parties and the beautiful weather that we have this time of year," event producer Ray Steinman said, according to WSVN.
The teaser for Pitbull's New Year's bash is below: