The UK Welcomed These Refugees With Open Arms — Now They're Paying It Forward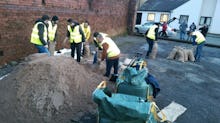 Syrian refugees are pitching in to lend a hand in the United Kingdom in the wake of Storm Frank's epic flooding. The unusual storm system, which has settled over Iceland, previously caused havoc in the U.S. and is contributing to a record-breaking heatwave in the North Pole. 
In Rochdale, a town in northwest England, refugees made a strong point with a show of outward kindness, filling sandbags to help mitigate the damage, the Guardian reported.
"We saw the pictures on TV and wanted to help," Yasser al-Jassem, a 35-year-old teacher, told the British paper. "The people of Greater Manchester have been very good to us and so we wanted to offer our help to them." 
The news of refugees lending a hand stands in stark contrast to a storm of anti-migrant sentiment that has proliferated in Europe and the United States. After the ISIS attacks in Paris and the ISIS-inspired massacre in San Bernardino, California, France's far right National Front party made considerable gains in national elections, though they were ultimately thwarted in second-round voting. 
In the U.S., Republican presidential frontrunner Donald Trump has used the threat of terrorism to insist that the United States send refugees already living in the U.S. back to Syria. Trump has also called for a blanket shutdown of all Muslim immigration to the United States and said he was open to the idea of putting mosques under surveillance and all U.S. Muslim citizens on an official database. 
So far, terror fears have not won out over existing policy, with Germany on track to accept more than a million refugees in 2015. French president Francois Hollande, meanwhile, announced after the Paris attacks that his nation would take in another 30,000 refugees over the next two years, while President Barack Obama refused to back down from his pledge to resettle 10,000 by the end of this year and 100,000 refugees overall by the conclusion of fiscal year 2017.
While governors in more than half of U.S. states have cited the refugee screening process as insecure, numerous people in and out of government with intimate knowledge of the procedure said the protocols were among the most robust of their kind.
While no screening system will ever be able to guarantee security, the actions of the Rochdale refugees suggests that most, if not all, of them come in peace.