Bill Cosby's Mugshot Has Been Released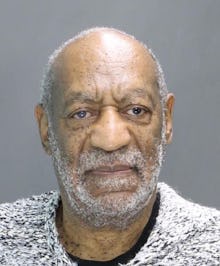 Montgomery County, Pennsylvania
Comedian Bill Cosby's mugshot was released Wednesday after he was charged with sexually assaulting former Temple University employee Andrea Constand. The allegation was one of dozens of accusations made against Cosby over the past decade to result in a felony charge.
Cosby, wearing a gray, speckled sweater, arrived at the Cheltenham Police Department in Elkins Park, Pennsylvania, where he faced sexual assault charges, after he was arraigned in court, ABC News reported. His fingerprints were taken and he was released on bail.
On Wednesday, Cosby received his first criminal charge associated with the more than 50 rape accusations against him. Most of the accusations stemmed from events that happened decades ago, but the alleged 2004 incident just met the 12-year statute of limitation by less than two days. 
The charges state that Cosby allegedly drugged and sexually assaulted Constand in 2004 after he invited her to his home to give her advice on a career switch, according to her lawsuit against him.
If convicted, Cosby could face five to 10 years in prison and a $25,000 fine.
Dec. 30, 2015, 3:58 p.m. Eastern: This story has been updated.