'New Year's Eve With Carson Daly' 2015 on NBC: Time, Performers and How to Watch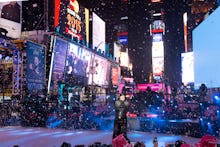 Charles Sykes/AP
NBC is hosting it's annual New Year's Eve special on Thursday and, according to the network, it's going to be its "biggest New Year's bash ever!" It's likely the network makes that claim every year, but what better way to ring in 2016 than with a ball drop, host Carson Daly and guest artist Gwen Stefani?
NBC's New Year's Eve With Carson Daly kicks off at 10 p.m. EST on NBC with the New Year's Eve Game Night With Andy Cohen, hosted by talk show host Cohen. There are several confirmed guests including Katie Couric, John Stamos and Bob Saget. Panic! at the Disco will perform as well. 
Stefani will perform her latest single "Used to Love You," International Business Times reported. The event can also be live streamed on NBC's site. 
Actress Debra Messing looks real psyched about it in NBC's promo video. Watch the full preview here.
In an effort to vamp up counterterrorism efforts, more than 5,000 police officers will be working in Times Square on Thursday for the highly-publicized New Year's Eve event, New York City officials announced in a press conference Tuesday.
In case you need help recovering after partying all night with NBC, here are eight ways to combat those painful New Year's Day hangovers.