Gwen Stefani's 2015 Was About Starting Over — Here Are 5 Inspiring Hits for the New Year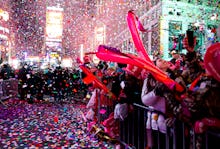 Singer-songwriter Gwen Stefani will be performing on New Year's Eve during a televised special, a performance that comes at a tipping point for the No Doubt front woman. As Stefani helps viewers everywhere ring in the new year, she'll be performing on the brink of 2016, which for many marks a new beginning. And in 2015, Stefani proved starting over isn't nearly as impossible as it may seem.
Stefani's biggest hit of the year was "Used to Love You," which took the No. 84 spot on Billboard's Hot 100 after its release, according to Billboard. In October, Stefani went on Mornings with Carson Daly  to discuss the single and, in the radio interview, confirmed what many suspected — "Used to Love You" is about the threadbare remains of her marriage to actor and musical artist Gavin Rossdale. Stefani and Rossdale divorced after 13 years, and the split had a tangible effect on Stefani's motivation to write music, according to Stefani.
"Everybody knows that I was married forever and now I'm not," Stefani said during the radio interview. "And so, could you imagine what my life is like right now? It's crazy! I ended up going into the studio and on the way to the studio that first time, I didn't want to go. I wanted to be in my bed, crying."
Since then, Stefani has found new love with country singer Blake Shelton, and the two appear to be over the moon. In a nod to Stefani's full circle year, here's a roundup of five songs to honor the vastness of a new year and a soundtrack for starting over and new beginnings:
Leon Bridges — "Better Man"
To honor resolutions, here's a ballad about solid resolve to adult devotion from Fort Worth, Texas, native and American soul revivalist Bridges.
Jake McKelvie & The Countertops — "Aside From Your Hair"
Perhaps a little-known (for now) folk-rock outfit from Keen, New Hampshire, hails a band that offers up arguably unmatched lyricism. With "Aside From Your Hair," the group delivers a gutsy manifesto that encircles emotional sovereignty, dignity and independence. 
Voxtrot — "The Start of Something"
This track from indie-rock giants Voxtrot is not new. In fact, it was released in 2005. Yet, the song warrants revisiting because its mantra is in line with new beginnings, and the sentiment at its core still rings true a decade later. 
Sufjan Stevens — "All Of Me Wants All Of You"
This one's for the lovers. Off the best Midwestern emotional theorizer's 2015 album, Carrie & Lowell, comes "All Of Me Wants All Of You," a crooning cut that hits all the nerves as easily as it lulls listeners into a meditative state of romanticism. 
Cayucas - "Champion"
To round out this list, here's a poppy cut from California outfit Cayucas. A sunny track off the Santa Monica-bred band, "Champion" is the perfect way to soundtrack rising above the fray and entering the New Year victoriously.