Severe Turbulance Injures 20 on Divereted Air Canada Flight 88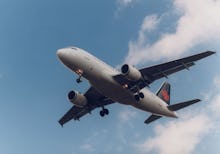 More airline woes this holiday season: As CTV News reported Air Canada flight 88 made an unscheduled landing at Calgary International Airport on Wednesday, after "severe turbulence" injured some 20 passengers on board. The plane was on its way from Shanghai to Toronto when it was diverted, touching down in Calgary around 3:15 p.m. local time. 
While no further information has yet been released, the Calgary Fire Department told the press that passengers suffered injuries to their backs and necks, according to CTV News. Ambulances and fire trucks were on the scene to help passengers deplane, and the injured parties are being treated.