Twitter Gets Tougher on Banning Users Who Make Violent Threats, Use Abusive Language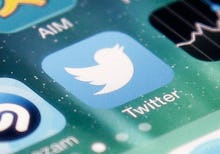 Marcio Jose Sanchez/AP
Take note, Donald Trump: According to the Associated Press, Twitter is cracking down on cyberbullies, hate speech and threatening language from users. The newly updated rules aim to promote a higher level of decorum site-wide, and come as an answer to criticism that Twitter is a bastion for terrorist and extremist groups. ISIS, for example, is active on social media. The policy revision isn't vast, but it is more specific.
"Today, as part of our continued efforts to combat abuse, we're updating the Twitter rules to clarify what we consider to be abusive behavior and hateful conduct," reads a blog post Wednesday by Twitter's director of trust and safety, Megan Cristina. 
"The updated language emphasizes that Twitter will not tolerate behavior intended to harass, intimidate or use fear to silence another user's voice. As always, we embrace and encourage diverse opinions and beliefs — but we will continue to take action on accounts that cross the line into abuse."
What does that mean? Twitter outlines several abusive behaviors that will get a user blocked or suspended. Violent threats, both direct and indirect, are now out of bounds. Harassment is identified in a number of ways: when an account exists primarily to antagonize others; when the antagonized party does not reciprocate or is being threatened; when a user rallies others to join in their antagonization games; when one user attacks another from more than one account. 
Hateful conduct is now off-limits as well — one user cannot target another on the basis of race, sexuality, religion, age, gender, gender identity, disability or disease. Users cannot make another person's private information — think: Social Security numbers, insurance information, credit card statements — public, and they cannot impersonate anyone else in an effort to "mislead, confuse or deceive others." 
It is also Twitter-illegal to make "multiple accounts with overlapping uses or in order to evade the temporary or permanent suspension of a separate account." Additionally, the revised policy reiterates that Twitter will take all due measures to help users who post about harming themselves or others on the app.
How does Twitter plan to police these measures? According to the blog post, Twitter has taken greater pains to block unruly users over the course of the year, and has set up a safety center where users can report violators. Twitter employs a "multi-layered strategy of fighting abuse," the blog post says, and has instituted "mandatory actions for suspected abusive behavior, such as email and phone verification, and user deletion of Tweets for violations. These measures curb abusive behavior by helping the community understand what is acceptable on our platform."
The ban on multi-user account overlap seems pretty squarely pointed at groups like ISIS, whose hydra-like Twitter presence is difficult to shut down. 
Are rules enough? Following the attacks on San Bernardino, California, both President Barack Obama and Hillary Clinton called on the tech industry to help in the fight against ISIS, but according to the Los Angeles Times, the tech industry hasn't been able to do more than tighten user regulations. The problem of how to enforce them online — in a non-physical space to which nearly everyone can gain access — persists.
"The new rules are definitely an improvement," Rabbi Abraham Cooper of the Digital Terrorism and Hate Project at the Simon Wiesenthal Center in Los Angeles told the Associated Press: "But the question is: Will they be accompanied by a more proactive attitude toward making sure repeat offenders are identified and permanently removed?" 
That remains to be seen.