Taylor Swift's Best Instagram Posts of 2015 — Starring Cats and Calvin Harris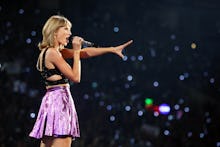 Matt Sayles/AP
Taylor Swift's year was full of major life goals. Her 1989 world tour featured virtually every musical guest that has ever existed and stacked up a whopping $3 million per night. On top of that, Swift helped define what it means to be a feminist and cultivated a massively epic girl squad. Her only fail was an awkward Twitter feud with Nicki Minaj, but she shook it off with a perfectly humble apology. 
Swift's successful year is reflected on her viral Instagram account, where she blesses more than 60 million followers with frequent pics of her cats, DJ boyfriend Calvin Harris, BFFs Blake Lively and Gigi Hadid, and friends that define #squadgoals. 
Here are Swift's nine most-liked Instagram posts, according to that Best Nine 2015 website everyone's crazy about:
Being that the megastar Instagrams almost everyday, often multiple times in a day, we don't think nine pictures do justice to her Instagrammy-worthy year. Here are some of our personal favorites (we recommend listening to a Swift playlist — not on Spotify, because she's too boss for any free streaming service — while enjoying these). 
Here's the singer's first Instagram of 2015. "Hi, 2015," Swift captioned a picture of her basking in all her glory after dropping 1989, the biggest album of 2014. 
"You know, just maxin' and relaxin' in my $20 million Tribeca apartment with my little-known supermodel friends Gigi Hadid, Karlie Kloss, and Martha Hunt. Oh, and my stylist Ashley Avignone," the caption could have read (the caption doesn't actually say that, but a picture is worth a thousand words).
Here are a few more of her peasant pals. 
That damn cat has no idea how lucky it is.
What, you don't text Ed Sheeran before bed each night?
'Merica, y'all.
The "Bad Blood" music video crew marked the official birth of #squadgoals. Let's convince ourselves they didn't actually eat those In-N-Out burgers.
Just your average double date on the London waterway. Ugh, why does that Kloss chick always have to tag along?
Ugh, hate when Cara Delevingne trolls my phone with selfies. 
Swift and Uzo Aduba versus the "Bad Blood" squad is like Swift competing with herself for #squadgoals.
#squadgoals
#squadgoals
#squadgoals
More #squadgoals
THE MOST #SQUADGOALS
The classic, "I was an awkward kid but it's cool because I'm a stunning platinum artist now" pic.
*awwwwwwwwwww*