9 Pictures of North West in 2015 That Prove She's More Fashionable Than We'll Ever Be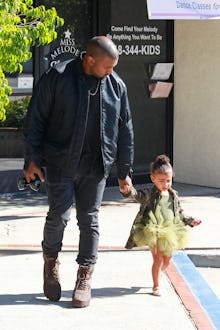 Bauer-Griffin/Getty Images
Kim Kardashian West and Kanye West's 2-year-old daughter North West proved in 2015 that she could follow in her father's — aka GQ's most stylish man of 2015 — footsteps. The pint-sized fashion maven has rocked high-fashion looks from Alexander Wang to Phoebe Philo, according to Vogue. In April, Kardashian revealed to Vogue that North's guilty pleasures are handbags, "and anything where there's a little bit of glitz." And according to Kardashian, North "likes grays, creams, oatmeal colors and black" clothes — she isn't a huge fan of pinks and purples. 
Just earlier this week, Kardashian posted a picture of North donning a fur coat — estimated to be $3,500, according to Entertainment Tonight — on Instagram. Kardashian captioned the photo with "swag." Swag, indeed.
From tutus to fur coats, here are some of North's best fashion moments of 2015. Everyone, take note:
1. Here, North matches the fur coat, which she wore in February during Fashion Week of course, with white Chuck Taylors and a baseball cap. Perhaps the true accessory is the lollipop, though.
2. North proves that tutus and camouflage do in fact go together.
3. Kardashian posted this picture of North in another tutu and a Balmain jacket on Instagram, with the appropriate caption "my little Balmain ballerina." 
4. In September, North attended her father's Adidas fashion show wearing a beige outfit, which matched her mom, and some Dr. Martens, E! reported. 
5. In September, North was spotted leaving Chelsea Pier in New York City wearing a stylish jacket, leather pants and booties. 
6. In the Kardashians' 2015 Christmas card, North wears a lace-up black dress and choker alongside her equally stylish cousins. 
7. Earlier this month, "little ballerina" North sported a furry, light pink coat, a sparkling choker and her hair in two French braids.
8. North schooled everyone in cool casual when she wore an oversized gray sweatshirt, leather pants and carried her My Little Pony stuffed animal. 
9. North channelled Straight Outta Compton with this denim outfit, complete with aviators and curls.
If 2015 was any indication, 2016 will be a big year in fashion for North.