The Best Day of the Year for Swiping Right Is Actually Coming This Weekend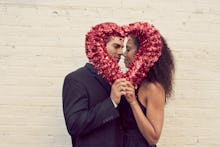 If you're looking for love in 2016, drunkenly fiddling around with your dating apps on New Year's Eve for a sweetheart to kiss at midnight may not be the best approach.
Data from online dating site Match.com suggests it would behoove singles to hold off for about 72 hours into the new year and log in on Jan. 3, what the matchmaking service has dubbed "Dating Sunday" — like Football Sunday, but for the fleeting validation that comes from being physically desired by a stranger on the Internet!
"On Sunday, January 3rd, it's as close to a national holiday for single daters as you can get," Match.com wrote in a blog post. "So, set your alarm on your mobile phones for Sunday night at 8:52 p.m./ET and get ready to fill up your date card."
According to Match.com, this single-day spike is part of a larger trend that designates the period between Christmas Day and Valentine's Day as the most booming time for online dating activity. The Match.com numbers are pretty impressive: a 60% increase in bae-hunting new users, 50 million sent messages and 1 million actual dates all contribute to the phenomenon of this peak dating season. (Mic has reached out to Match.com for further comment and will update if we hear back.) 
So why is this period a time of such intensely concentrated thirst? Match.com's "chief scientific adviser," anthropologist Helen Fisher, said it's because of holiday-induced loneliness.
"Showing up to parties alone and feeling pressure from friends and family — it becomes vividly clear that you don't have a person in your life," Fisher told Mashable. "Moreover, the beginning of the new year is a natural time for rejuvenation and renewal and has been for thousands of years. So, around this time, we naturally begin to look around for true love."
The fact that people are desperado for someone to smoosh with during these frigid winter months isn't surprising. Cuffing season, in which people long for someone to snuggle with in the cold winter months, is already a well-documented phenomenon. And a number of other dating sites and apps — from OkCupid to Hinge to Coffee Meets Bagel — have shared increased activity results for this time of year that basically match (lol) the ones from Match.com.
"We think there is an uptick in matching and messaging post-Christmas because people are seeking a flame to warm the winter/post-Holiday chill," Liina Potter of Coffee Meets Bagel told BuzzFeed. "You could say 'cuffing season' is in full effect. In the New Year, people also seek the seed to create new beginnings, which includes new relationships." 
What's interesting is that past research has dubbed December "breakup season," because going home for the holidays can make people seriously evaluate their life choices for the long term. This may seem a little counterintuitive to the whole cuffing season narrative; but it may also be why once the holidays are over, so many people are freshly single and ready to mingle their way to a fresh new relationship that will make all their problems go away in the new year.
At least until December rolls around, that is. One wouldn't want to miss out on that following year's Jan. 3 thirst fiesta!
h/t Mashable