Kendrick Lamar Faces Down Lucy's Temptations in New Short Film "God Is Gangsta"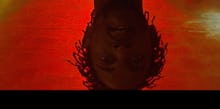 Kendrick Lamar has had a hell of a year. His dark mosaic To Pimp a Butterfly started provocative conversations about race, power and greed, and topped end-of-year lists across the music space. He earned accolades from the state of California for continuing to support his hometown of Compton despite his ability to buy himself a new life.
In what will likely be his last video of the year, Lamar takes a trip through hell Thursday morning. Shared via his mostly silent Twitter account with three words, "God Is Gangsta," the seven-minute clip offers visuals for "u" and "For Sale? (Interlude)" — two of To Pimp a Butterfly's most challenging and profound songs. 
Lamar re-enacts the infamous hotel scene from "u" before being courted by Lucy aka Lucifer in "For Sale? (Interlude)." The video shows Lamar going through a baptism, but the devil still manages to take hold of him. It leads a catatonic Lamar through a house of pleasure, surrounding him with temptations. 
Subliminal maxims flash across the screen to accompany Lamar's trials: "Life is like a box of chicken" and "good dussy can make you melt" and "you'll buy the mall if lust involved. The evils of it all." But Lamar emerges unscathed to see another year. 
It caps an incredible year of videos for Lamar. The high-flying "Alright" is up for a Grammy Award for best music video, as is Taylor Swift's "Bad Blood" video, which he co-starred in. Those are only two of his 11 nominations. In a recent interview with the New York Times, Lamar said he's determined to take them all home.
"I want all of them," he said. "Because it's not only a statement for myself, but it's a statement for the culture. They're all important, because of the foundation the forefathers laid before me. Nas didn't get a chance to be in that position. Pac. So to be acknowledged and to actually win, it's for all of them."
Watch the full "God Is Gangsta" video below.