Dascha Polanco Has a Message to the Clothing Brands That Only Make Small Sizes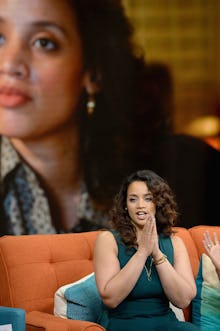 Dascha Polanco loves her body and loves showing it off in the latest trends. But that hasn't always been easy to do in a fashion industry that favors small sizes.
In an video interview with RollingOut, Polanco, who stars on the Netflix show Orange Is the New Black, spoke about how designers and brands often won't want to dress her because she's "not a sample size." That isn't going to stop her from being the fashion-maven she wants to be, though.
"I'm not your size 0... I'm still looking good in a size 8," Polanco said. 
"There's a lot of brands that don't want to dress me because I'm not sample size... I have a decision as well. I don't have to dress with your clothing. It's not me waiting for you to dress me now. I choose who I want to be dressed by." 
The fashion industry's curvy prejudice: Polanco's 5-foot-3-inch height and size 8 shape means she's often left out of high-end designers' sample size range. Sample sizes usually range from a size 0 to size 4, reflecting the modeling industry norm (they are the ones, after all, who usually wear the samples). 
If designers aren't creating clothes in larger sizes, that limits the choices Hollywood stylists have for their celebrity clients. What's worse, some designers might simply not want their clothes shown on women above a certain size, something actresses like Melissa McCarthy have attested to ("I asked five or six designers — very high-level ones who make lots of dresses for people — and they all said no," she once said).
It's something industry insiders, like Vogue Australia editor Kirstie Clements, have called out.
"There are no bigger samples available, and the designer probably has no interest in seeing their clothes on larger women," Clements told the Guardian. "Many high fashion labels are aghast at the idea of producing a size 14, and they certainly wouldn't want to see it displayed in the pages of the glossies."
"Many high fashion labels are aghast at the idea of producing a size 14."
For her part, Polanco is perfectly happy with her body type and has always has been; in fact, the Dominican Republic native said she didn't fit a particular body ideal until she came to the United States.
"Growing up, I never knew that I couldn't fit into a size 0, because culturally, I was the body type," Polanco told RollingOut. "But once you come to America and you see what the standard is in media, then that's when you start questioning, 'Well, am I the same as everyone else? Is this acceptable? Am I going fit into these things?'"
But she won't be changing her standards any time soon. Polanco's worn plenty of stylish looks on the red carpet and was named one of the 50 most beautiful celebrities by People En Espanol in the spring. Take that, Hollywood stylists.
h/t People