Kim Kardashian, Fetty Wap and Why 2015 Was the Year of the Emoji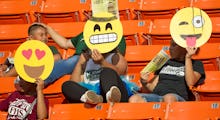 Eugene Tanner/AP
It's safe to call 2015 the year of the emoji. Emojis expressed what words can not with just the flick of a fingertip. True magic, right? 
These days, it's just about impossible to avoid emojis, which are beloved for the personality they add to text-based conversations, Mashable said in 2014. People react more to facial expressions, which is good when there's over 1,281 to choose from.
The popularity of emojis have prompted many celebs and even movies to join in on the fun and release their own emoji collections. Personal branding and promotion doesn't get any better than that. 
Fetty Wap, known for his hit song "Trap Queen," announced his own emoji series on Instagram, which includes sports cars, "Cookin with my baby" and a smiley missing one eye. "Just in time for the holidays," he captioned the photo.
The move follows the release of Kim Kardashian's "Kimoji" collection, which include butts, selfies and a crying Kardashian.
Even the dark superhero movie Deadpool released its own set of emojis in December, according to Mashable. The red emojis helped promote the movie, which has a February release date. 
In April, the emoji world broke boundaries when it allowed users to customize skin tones and hair color. The diverse emojis include 32 more flags and same-sex couples, according to USA Today, and the skin tones were based off of the Fitzpatrick scale, which is measures how different people's skin reacts to sunlight. 
Back in October, Apple released its iOS 9.1 software update, which also released 184 new emojis for people to text and caption their Instagram posts with, Vogue reported. Some of those include the middle finger for when words cannot express your anger and the fan-favorite burrito for when words cannot express your burrito cravings.
The makers and regulators behind the emojis is the Unicode Consortium, which will review 67 new emojis in May 2016, Newsweek reported. Tech giants Google, Apple and Facebook are part of its voting committee. 
The reign of the emoji is far from over.