'Thugged Out Pissed Off': Here's How to Listen to Lil B's New 63-Song Mixtape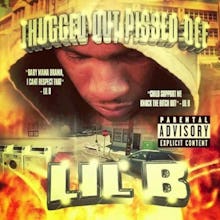 California rapper and published author Lil B, otherwise known as the BasedGod, dropped a massive surprise mixtape called Thugged Out Pissed Off  Wednesday, Fact magazine reported. The raunchy rapper collaborated with Chance the Rapper for a surprise album this year, but this is his first solo endeavor of 2015 — just in the nick of time. Thugged Out Pissed Off can be streamed on DatPiff.
The 63-track tape includes "4 Tha Record," a song he dropped dissing the R&B artist the Weeknd in November. "A lot of suckas fake, so I can't respect it/ Fuck the Weeknd, put that on record," Lil B raps on the track. Tell us how you really feel, BasedGod.
Fans are hyped, calling the mixtape a "true gift to our generation."
The only downside about the hefty mixtape, according to a Twitter user, is that it takes 40 minutes to download. 
The cover art features a hooded Lil B and his own quotes, "Baby mama drama, I can't respect that" and, "Child support me knock the bitch out."
The rapper received some negative attention for making transphobic comments on Twitter in July, but he quickly apologized, saying he's "still growing" and, "It's all about learning and accepting and being comfortable with self," adding, "I think I'm insecure."
Correction: Dec. 31, 2015