Here's Why Miss Universe Runner-Up Miss Colombia Agrees With Donald Trump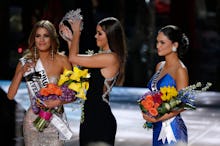 Miss Colombia Ariadna Gutierrez, who famously was crowned Miss Universe due to a mishap from 2015 Miss Universe host Steve Harvey, shared her thoughts on the "humiliating" mistake in a new interview with a Spanish-language radio station, the Latin Times reported. 
Gutierrez responded to a comment that Donald Trump, former owner of the Miss Universe pageant, said in the wake of the often-memed blunder. In an interview with Today's Matt Lauer, Trump said he would make the pageant contestants "co-winners," adding, "It would be very cool."
"For the first time," Gutierrez said in response, according to the Latin Times, "I agree with him."
In the interview, the Latin Times reported, Gutierrez also addressed the initial misreading of the card and the $1 million offer, which she saw on social media, for her to appear in a pornographic video. Hint: It's not going to happen. 
"My parents would kill me," Gutierrez said.
Watch the crowning of Miss Philippines Pia Alonzo below.