2016 Tax Season: When You Can Start Filing Your Taxes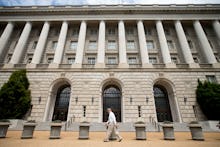 Andrew Harnik/AP
Tax filing season starts on Jan. 19 and will end on April 18, the IRS announced in a statement released on Dec. 21. This year's starting date isn't tiered, meaning that all and any taxpayers can submit then, according to Forbes.
However, the deadline is a little tricky. Usually Tax Day lands on April 15, but it is pushed back because Emancipation Day, when Abraham Lincoln signed an emancipation document in 1862 freeing slaves living in Washington, is also that day. Those in Maine or Massachusetts will get to file by April 19 because of Patriots' Day, which is a regional holiday celebrating the the fight for American independence from the British. 
The IRS said more than nine out of 10 refunds will be issued in less than 21 days after being filed. Over 150 million individual returns are expected in 2016, mostly through tax preparation software. According to the IRS, e-filing your tax return and opting for direct deposit are the quickest ways to file your tax return and get your refund. 
Due to the shift to online tax filing, the IRS is also working with the tax industry itself and state revenue departments to decrease chances of identity theft and fraud, as part of the Security Summit initiative. The agreement was reached after the project was announced on March 19 and includes new efforts such as reviewing computer device identification, promoting cybersecurity logistics and sharing analytical information with each other to identify fraud, an IRS statement from June said.
For speedy reviewing, the IRS encourages people to have every year-end statement ready, including the W-2 form from employers and Form 1099 from banks. Early birds can fill out documents before then, but nothing will be officially processed until Jan. 19, the statement from December said. 
Last year, the IRS started tax filing season on Jan. 20, Forbes reported.