5 Things You Need to Know About the 2016 Golden Globes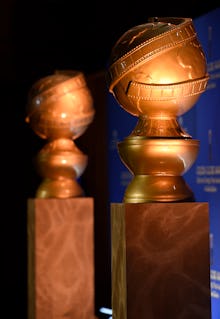 Chris Pizzello/AP
The nominees for the 2016 Golden Globe Awards are out, and the list has a bevy of wildly talented directors, actors, actresses and a number of this year's best films and TV series. The annual awards show, which will air Jan. 10, will broadcast live from Los Angeles beginning at 8 p.m. Eastern on NBC. In anticipation of potentially honoring such films as Trainwreck, Spotlight andThe Martian, as well as some of the year's most visible performers, such as Jennifer Lawrence and Jeffrey Tambor, here are five things to know about the yearly event.
1. The Golden Globes is a historic awards show. 
This year marks the 73rd Golden Globe Awards show. The very first event happened in 1944 and was hosted by an organization called the Hollywood Foreign Correspondents Association, which today is named the Hollywood Foreign Press Association. The event recognizes talent and successes in 25 categories, which breaks down into 14 honors awarded to films and 11 awards given to TV shows each year. 
2. The Golden Globes red carpet always has amazing fashion.
Each year stars walk the red carpet sporting some of the world's most famous fashion designers. According to the HFPA, "The attraction between the two fields — fashion and entertainment — is understandable: In addition to strong and accomplished, women want to feel beautiful and comfortable. Fans emulate the looks they see on the red carpet, and the question 'Who are you wearing?' has become so ubiquitous that some have tried to downplay fashion's significance with the glitterati of Hollywood."
Here are just a few choice red carpet looks from 2015's award show.
3. The Golden Globes breaks barriers. 
In 2014, Ava DuVernay became the first African-American woman to be nominated for a Golden Globe award for best director for a motion picture for her work on Selma. 
4. Amazing memories are made. 
The annual awards show has served as a staging ground for memorable moments, like that time in 1999 when Jim Carrey won the award for best performance by an actor in a motion picture or when, in 2009, Tina Fey delivered an unforgettable and winning acceptance speech.
5. Predictions
Every year, much ink is spilt speculating which films will earn the coveted awards. Some works are simply so impactful that it's hard to believe they wouldn't be honored, and writers and critics alike make that known before the winners are announced.
One suspected winning candidate for the awards is Spotlight, which details how in 2002, Boston Globe reporters blew open a story exposing instances of of child molestation within the Catholic Church, as well as the Catholic Archdiocese's attempts to cover up the scandal. 
"The Hollywood Foreign Press Association has been going with the bread-and-butter critics' favorites lately, so look for Spotlight to win," wrote Los Angeles Times reporter Glenn Whipp.