Massive Fire Engulfs Dubai's Address Hotel Amid New Year's Eve Celebrations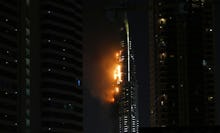 Karim Sahib/Getty Images
The Address hotel in Dubai, in the United Arab Emirates, erupted in flames during New Year's Eve celebrations Thursday, according to multiple reports. The blaze started just two hours before midnight, and thousands of people were gathered in the area, according to the Associated Press.
According to Dubai's government media office, 90% of the fire is under control, and the whole fire will be controlled within a half-hour. Fourteen people suffered minor injuries, according to the media office, while one person suffered a heart attack and another a more moderate injury due to overcrowding and smoke at the fire site. No children were among the injured. 
Eyewitnesses began posting photos and videos of the flames to social media. The cause of the fire was not immediately known. 
The AP reported that "burning debris" fell from the building's facade. Whether anyone was hurt in the fire, which broke out around 9:30 p.m. local time, was not immediately known, the AP reported. Videos posted to Twitter showed flames climbing the 63-story luxury hotel, Dubai's sixth-tallest building, in the city's downtown area. The Address is near the Burj Khalifa, which is the world's tallest building, according to the AP. 
"All of a sudden we saw this huge black plume of black smoke coming between the Khalifa tower and the hotel," an eyewitness told the BBC. "The flames burst out really big, and before we knew it the whole of the Address hotel was covered in orange flames."
Several fireworks displays were scheduled to take place in Dubai on Thursday, however a firework had not yet gone off at the time the Address hotel caught fire, according to the Daily Beast. The fire engulfed "multiple floors" of the skyscraper. According to the AP, Dubai had three firework displays planned in the area for the evening. The country's New Year celebrations will continue as scheduled, according to a tweet sent by the government's media office.
A woman who was having dinner at the hotel with her family told CNN the staff handled the unfolding situation efficiently. "They got us out calmly... quickly. We were impressed with how easy we got out of there," she told the network. The fire appeared to begin on the building's 20th floor, a tweet from the media office read. 
The Address hotel features guest rooms, as well as long-term residences, according to the New York Times. Nearly two million people were expected to gather in central Dubai to ring in the new year, according to the BBC. 
Dec. 31, 2015, 3:06 p.m. Eastern: This story has been updated.