The US Army Wants YOU... to Volunteer to Eat Nothing but Rations for 3 Weeks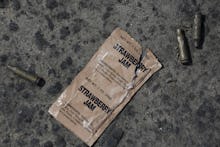 Feeling patriotic but not quite ready for active duty? If so, the U.S. Army may have just the ticket: a three-week study to test army ration food, more popularly known as Meals, Ready to Eat, or MREs
According to the Army Times, the Army Research Institute of Environmental Medicine's military nutrition division is conducting the ongoing study which requires participants to subsist solely on the official government rations every day. 
The purpose is to figure out a little bit more about how the human body and the trillions of bacteria in our guts react to the food, and hopefully identify ways to improve the offerings.
"There's a lot of interesting and new research looking at gut bacteria, and how those gut bacteria interact with the human body," study chief Dr. J. Philip Karl told the Times. "We think we can manipulate the bacteria in a way that helps the bacteria fight foreign pathogens — things that could cause food-borne illness, for example."
Mic reached out to a spokesman for the Army division involved in the study, who was unavailable for comment.
In addition to exploring gut bacteria, researchers are also seeking ways to make MREs more nutritious — no easy feat given how rugged, durable and long-lasting the portions need to be. 
And then, of course, there's the issue of flavor and variety.  A quick scan of YouTube shows no shortage of avid adventure-seekers who have managed to get ahold of MREs trying their luck. 
"It's not bad; it's not delicious," says one YouTuber into the camera shortly after commenting that her chicken and noodles looked more like "cat food."  
So while MREs may only stand to get more delicious, the military appears to be a long way from replacing those home-cooked meals.