How to Watch 'Pitbull's New Year's Revolution' Livestream Online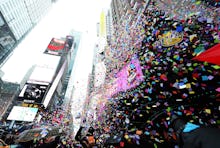 Nicholas Hunt/Getty Images
New Year's Eve celebrators have a number of options when it comes to televised specials this year, among them  Pitbull's New Year's Revolution on Fox. The musician will be hosting the televised New Year's Eve special for the second time, and the programming is scheduled to begin at 8 p.m. Eastern. The event will be broadcast live from Miami, and interested viewers can head to Fox's website to catch the livestream.
"After a hit international tour, Mr. 305 will return to Miami to ring in the New Year," Fox said in a statement.  "Last year, Pitbull was joined by some of the biggest names in music, including Enrique Iglesias, Ne-Yo, Fall Out Boy, Fifth Harmony, The Band Perry and Becky G."
"On the second annual Pitbull's New Year's Revolution, Mr. Worldwide will throw another live event full of Miami flair, featuring appearances and performances by Pitbull himself, the year's best artists and special guests (to be announced)," the statement adds. 
Fox News Network will also be running a special evening of news programming, which will air in three parts and begins at 5 p.m. Eastern, is available to viewers online on Fox News Go. 
Thursday night's news special features hosts Jesse Watters, Kennedy and Katherine Timpf at 9 p.m., when the long countdown to midnight will begin. At this point in the show, Fox will be broadcasting live from the roof of the Knickerbocker hotel on 42nd Street.
From 10 p.m. Eastern and on, hosts Kimberly Guilfoyle and Eric Bolling will bring viewers straight into the new year. Yet the dup won't be along in the final hours of the year. Several GOP presidential candidates will make an appearance during Fox's special, including frontrunner Donald Trump, former neurosurgeon Ben Carson and ex Hewlett Packerd CEO Carly Fiorina.