This Senator Just Launched Into a Tweetstorm That Should Give Us All Pause This NYE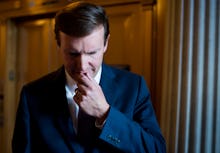 Sen. Chris Murphy, the Connecticut freshman Democrat who made waves after denouncing "thoughts and prayers" as a response to mass shootings, is ringing in 2016 with a sobering reminder — or rather, a laundry list of them. Instead of champagne toasts or gooey resolutions, the senator spent Thursday tweeting out the bare details of every single mass shooting  that took place in the United States in 2015.
And it's not a short tally. 
If horrific acts of violence seemed to be a near daily occurrence in 2015, it's because they actually were: Over the last 365 days, Murphy, citing shootingtracker.com, counted a total of 372 mass shootings (which he defined here as an incident in which four or more people, shooter included, are shot).
Some of the grimmest moments Murphy underlined included the slaughter of nine at a Charleston, South Carolina church, the seven killed in a house-to-house massacre in Texas County, Missouri, another 10 at Oregon's Umpqua Community College and 14 in San Bernardino, California:
Despite only being in the Senate since 2013, the young politico with a 100% rating from the Brady Campaign to Prevent Gun Violence has already staked out a leading position within the gun control movement. It's a role he partly stumbled into during his tenure with the House of Representatives when, in 2012, the district he represented was paralyzed by the Sandy Hook Elementary School shooting in Newtown, Connecticut. 
Indeed, despite the near continuous slaughter in 2015 and in previous years, repeated efforts by Democrats and President Barack Obama have failed to tamp down on the availability of guns in the United States, nor prevent the National Rifle Association from stymieing related legislation. After the Sandy Hook massacre, which left 20 children and six adults dead, Obama briefly attempted to revive the '90s-era Assault Weapons Ban; Congress hated the idea. Even modest measures, like a plan to ban armor-piercing bullets, failed to gain traction. 
While there is some speculation that Obama will use his executive authority to curtail some of the largest excesses, like plans for new regulations on gun sellers, it is widely agreed that more comprehensive and meaningful reform will have to go through Congress. With Republicans, however, dead set against any Obama proposals, that job will likely fall to his replacement in 2016.