Taylor Swift's New Video for 'Out of the Woods' Is Controversy-Free — Well, Almost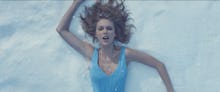 2015 was the year of 1989. As Taylor Swift's album passed the 9 million mark in sales, she had to give her fans one more surprise. On New Year's Eve, she released the music video for "Out of the Woods," which debuted on Dick Clark's New Year's Rockin' Eve. 
The video features the 26-year-old singer in a flowing blue dress that becomes increasingly muddied and torn as she runs from wolves through a dark forest and across the frozen tundra before it all disappears behind her. The video ends with the words, "She lost him but found herself. And somehow that was everything." 
Swift's new music video is perhaps more harmless than other video releases off of 1989, which have been critiqued for their careless treatment of race and colonialism. Still, the Guardian reported that the production of "Out of the Woods" isn't entirely without its own controversy. During filming in New Zealand, conservationists gave Swift's team flak for allegedly endangering the life of a "rare native bird" after flouting a permit. 
In any case, Swift's song serves as the perfect anthem to the first day of 2016. Are we in the clear, yet?