Kanye West Drops New Song "Facts" on New Year's Eve — Here Are Lyrics and How to Stream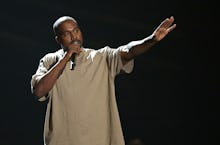 Matt Sayles/AP
Kanye West quietly dropped a new song "Facts" on New Year's Eve while everyone was out popping champagne or watching New Year's Eve specials on the couch. In the new track, which was released Thursday hours after his wife Kim Kardashian West announced it on Twitter, the rapper takes aim at Steve Harvey, whose recent Miss Universe pageant gaffe was heard around the world, and Bill Cosby, who faces charges for an alleged 2004 sexual assault.
"Yeezy Yeezy Yeezy new song about to drop #Facts" Kardashian tweeted before West blessed his fans with his first official single since "All Day" in March. In typical Yeezy fashion, West pulled no punches when it came to dissing Cosby and Harvey. "Do anybody feel bad for Bill Cosby?/ Did he forget the names just like Steve Harvey? (Yo)."
The song's full lyrics are available on Genius and the track can be streamed on SoundCloud. 
Source: Soundcloud
Kardashian got fans hyped on Twitter hours before dropping the song on the social media platform for her tens of million followers — and, of course, she humble bragged about her husband's power with a picture of him and President Barack Obama. 
"Facts" will likely be featured on West's upcoming seventh studio album Swish, a project he's been teasing too long and has yet to confirm a release date for — but rapper Pusha T told MTV earlier this month he heard it and it's well worth the torturous wait. 
"Kanye's really meticulous about how he speaks about his music," he told MTV. "I'ma just say that y'all are in for a treat," adding, "I don't know when Swish is coming. He gets to work as long as he wants to, but everything I've heard is incredible. Everything. And it's nothing like the records that he's put out as of late and he's really dialed in and he's excited."
West dropped "Only One" last New Year's Eve, a song he wrote with Paul McCartney about his first born North and late mother Donda West. McCartney played keyboard and Ty Dolla Sign did backup vocals for the song, which should also appear on Swish. The song debuted in Billboard's top 40 and hit 125,000 digital downloads in its first week.