Tel Aviv New Year's Day Shooting Leaves at Least 2 Dead, Several Wounded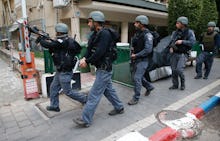 Jack Guez/Getty Images
Tel Aviv, Israel, was on edge and residents were briefly advised to stay indoors Friday afternoon after at least two people were killed and several others injured in a shooting in the city's central, the day after New Year's Eve celebrations, according to several local news reports. Officials said a suspect had been detained, however according to authorities, the shooter remained at large, the Jerusalem Post reported. 
A manhunt was underway to find the assailant. Parts of the city were blocked off as authorities, including undercover units, searched the area. The shooting, which occurred at a bar on one of the city central's major streets, Dizengoff Street, was carried out by a person wearing a black mask, witnesses told CNN. 
The attack marked Tel Aviv's first such attack since November, when a man identified as a "Palestinian assailant" stabbed three people, killing two, on Ben Tzvi Road. "We're still at the beginning of the incident and I hope those responsible get caught," Tel Aviv Mayor Ron Huldai said, according to Haaretz. 
The motive for Friday's shooting attack was not immediately clear, Israel police said, according to the BBC. The attack followed a string of recent attacks on Israelis by Palestinians. Police spokesman Micky Rosenfeld said via Twitter Friday the incident was being investigated to determine whether it was criminal or terrorism. 
Between Sept. 13 and Dec. 30, there were dozens of attacks, including 35 shootings and 99 stabbings, in Israel related to "radical Islamist and terrorist elements," according to the Israel Ministry of Foreign Affairs. The attacks resulted in 25 deaths and 259 injuries. 
Photos of Tel Aviv on Friday showed armed police on the streets and outside residences: 
Jan. 1, 2015, 10:25 p.m. Eastern: This story has been updated.