People Are Pissed About These Tweets From the Times Square Ball (Yes, You Read That Right)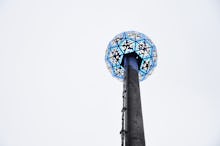 It turns out if balls could talk, they would have some ignorant things to say. On New Year's Eve, the Times Square Ball retweeted — from its verified Twitter account — a Men's Health recipe for making your own edible Times Square Ball. They added "Cannibals!" which might have been funny, had they not followed it up with the hashtag #BallLivesMatter. They went on to tweet the hashtag out again, without any context.
The tweets were quickly deleted, but not before outlets like the Daily Caller could screenshot them, and not before Twitter users could respond. 
Others thought people were overreacting to what was meant to be a joke, or chalked it up to "political correctness" gone too far.
Still, the hashtag served as an important reminder that people are still trivializing the movement to protect black lives in the U.S. 
In a statement, a spokesperson for New Year's Eve in Times Square said, "The Tweet was unacceptable and indefensible. As soon as event organizers became aware of it, it was removed immediately. The person responsible was an independent freelancer and will not be engaged again."
Jan. 4, 2016. 11:35 a.m. This story has been updated to include comment from a spokesperson for New Year's Eve in Times Square.