Bill Cosby Just Sent a Tweet to His Fans After Wednesday Arrest — and It Totally Backfired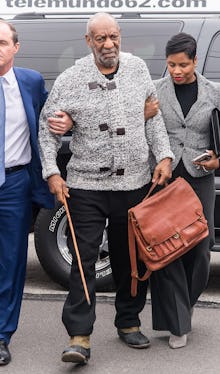 Gilbert Carrasquillo/Getty Images
For the first time since his arrest on Wednesday, embroiled American comedian Bill Cosby broke his silence to the public. In a minimalist tweet Thursday night, Cosby, 78, wrote, "Friends and fans, Thank You." 
Reacting to Cosby's Thursday tweet, users on the social media platform were divided, though the vast majority skewed toward disapproval. Reactions ranged from "what about the victims?" to "stop denying your horrendous crimes." 
Here's a few of the sentiments that Twitter users had to say in response to Cosby's tweet:
The tweet comes after Cosby's arrest for the alleged sexual assault of Andrea Constand, a former Temple University employee, in 2004. Dozens of women have come out with accusations of their own in recent years, alleging Cosby sexually assaulted them. After his arrest, Cosby posted $100,000 of his $1 million bond, according to CBS News. 
On Thursday, Cosby's lawyer, Monique Pressley, told Today that she was aiming for full exoneration for Cosby, and that she would accept nothing less. 
"My client is not guilty," said Pressley on Today. "And there will be no consideration on our part of any sort of arrangement."
At his preliminary hearing, scheduled for Jan. 14, Cosby will face a sentencing of up to 10 years in jail. If found guilty by the court, Cosby will also have to register as a sex offender.