The New York Public Library's Erotica Collection Is Ready for Your Viewing Pleasure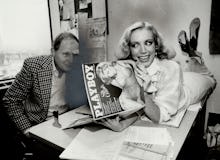 Unfold your fan and undo that collar button — your next visit to the New York Public Library will likely be a steamy one. 
The New York City institution is finally starting to release its long-restricted and enormous collection of erotica to the general public, the New York Times reports. This includes everything from Fifty Shades of Grey's predecessors to decades-old fliers for kinky services in the city to William Faulkner's sketches of him and his mistress having sex. 
Once sequestered and only accessible after being granted special permission, much of the racy material is now readily available to any adult member who requests to see it in the main branch (for those in a hurry, here's the address). However, the determined seeker may have noticed that a lot of it is already scattered throughout the library, in relevant sections. 
"There were many materials in the library's special collections that I had never seen before," Jason Baumann, a library curator, told the Times. "The range and depth of our collections never ceases to astonish me."
While the library did not seek out erotic and pornographic content, its gatekeepers felt it necessary in order to document every facet of society — not just the literary and refined ones. 
"Erotica was not something we were particularly going after, but we needed to collect life as it was lived," Baumann explained to the Times. "We needed to understand and document for history what the city of New York was like. That meant collecting the good and the bad. It was always part of our mandate."
It's a mandate that put the city's library system well ahead of the curve regarding public recognition and preservation of gay erotica.
"We collected in the heyday of midcentury gay erotica," said Baumann. "Looking back, we were pioneers."
In place of the conventional "XXX" warning, the library's saucy content is marked with ***. Looking for a recommendation? "Whip Hand: Lash By Bloody Lash the She-Devil From Dallas Would Get Her Revenge" sounds like a particularly fun pick. Otherwise, you know you've hit gold if you ever chance upon a book there with the warning sign.
Just follow the stars.