'Unforgettable' Singer Natalie Cole Is Dead at 65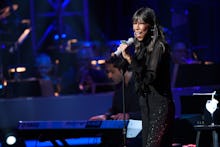 Natalie Cole, R&B singer and daughter of legendary jazz artist Nat King Cole, died Thursday night, reports the Associated Press. 
A statement released by her family reads, "Natalie fought a fierce, courageous battle, dying how she lived ... with dignity, strength and honor. Our beloved Mother and sister will be greatly missed and remain UNFORGETTABLE in our hearts forever."
TMZ initially reported the singer's death, nothing that, in recent years, Cole had struggled with a number of health issues including hepatitis C and kidney failure due to past drug use. In 2009, Cole underwent a kidney transplant; the organ was donated by a deceased fan. 
"You shouldn't have regrets. I'd say instead that I've learned a lot of lessons," Cole told People magazine in a 2008 interview. "Yes, I could have handled some things better. But they've also made me who I am today."
The singer is perhaps best known for the 1991 father-daughter duet "Unforgettable" in which producers spliced her voice into the track atop that of her late father's. In 2010, Cole released a second memoir, Love Brought Me Back: A Journey of Loss and Gain. In 2013, Cole was nominated for three Latin Grammys for her Spanish language album Natalie Cole En Español, according to her website. Cole had recently cancelled tour dates in November and December after falling ill, Rolling Stone reported.