Don Lemon Told Kathy Griffin She Has a "Nice Rack" During CNN's New Year's Eve Coverage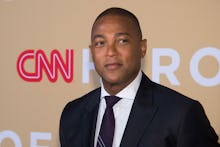 Charles Sykes/AP
Don Lemon may or may not have over indulged in the bubbly during CNN's New Year's Eve coverage. Lemon, who was hosting CNN's New Year's Eve alongside Brooke Baldwin in New Orleans, told comedian Kathy Griffin she has a "nice rack," all while the cameras were rolling, the New York Daily News reported. "I didn't know you had all of that," he added, before Baldwin took his drink away and tried to end the awkward moment by walking away. 
Griffin, who was in Times Square with CNN's Anderson Cooper, had just taken off her shirt. Viewers were quick to jump on Twitter to question Lemon's sobriety. 
Lemon even climbed into a hot tub during the show after eating "a ton of crawfish."
And perhaps as proof, here's Lemon acting a little too aggressively over the champagne pour:
But, at the very least, Lemon was willing to laugh along with the Twitter commentators in the wake of the televised special, retweeting some of the many jokes coming his way.