Skywriters Stole the Show at the Rose Parade With This Message for Donald Trump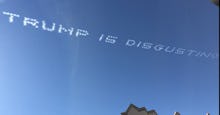 Most of us must resort to shouting our political beliefs at the television screen during presidential debates, or posting rants to our Facebook timelines. But on Friday at the parade, one group's message for Donald Trump was sky high. 
Against the stark blue California sky, skywriters wrote, "America is great! Trump is disgusting," "Anyone but Trump" and "Trump is a fascist dictator." CNN reported that the identity of these gutsy pilots remains unknown, but a national aerial advertising firm called Air Sign took credit for the scheme on Twitter. They thanked users for sharing photos and encouraged them to visit the website AnybodyButTrump.us. 
Not everyone is sure yet of what's going on, but the skywriters have become heroes without capes for some parade goers. 
Because few things bring people together like a common enemy.