Here Are the States That Increased Minimum Wage — In One Map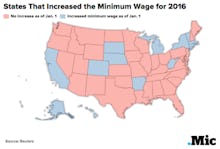 As the new year begins, so do pay increases for workers making the minimum wage — at least in some states. According to the National Conference of State Legislatures, 14 states started off 2016 with increases to their minimum wages. The 14 states where minimum wage increases began as of Jan. 1 are Alaska, Arkansas, California, Colorado, Connecticut, Hawaii, Massachusetts, Michigan, Nebraska, New York, Rhode Island, South Dakota, Vermont and West Virginia, Reuters reported.
Two of the states that increased the minimum wage did so automatically, to adjust to increases in cost-of-living, but 12 of the 14 increases that began at the start of 2016 were due to state legislation passed in 2014 or 2015, the NCSL reported.
California and Massachusetts had the largest increases, both went up from $9 per hour to $10 per hour, while South Dakota had the smallest increase, from $8.50 per hour to $8.55 per hour, reports Reuters. A full list of state minimum wages as of Jan. 1 is available on the NCSL website.
The debate surrounding minimum wage increases will likely continue to be an important issue in 2016. Over the past year, campaigns to increase wages held protests and "Fight for $15" rallies in major cities across the country. 
In May, Los Angeles became the biggest city in the country to approve a $15 per hour minimum wage — a change that will go into effect over the next four years.