Lena Dunham Rips Bill Cosby on Twitter After Hearing of His Arrest for Sexual Assault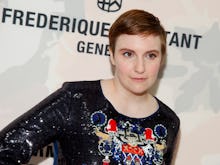 Lena Dunham, creator of HBO's Girls and founder of the feminist-oriented newsletter Lenny, had something to say this week in response to news that comedian Bill Cosby has finally been arrested and will face charges for one of the 50+ alleged rapes he committed during his decades-long comedy career.
On Twitter, Dunham said she was glad Cosby would finally be held accountable for his actions and added that his victims already knew what it was like to have their lives "marked forever."
Not content with that, Dunham twisted the knife a little further.
Other than Dunham, celebrities to weigh in on Cosby's arrest included director Judd Apatow, actor Joshua Malina and comedian Amy Schumer.
If convicted, Cosby will serve a maximum sentence of five to 10 years in prison and pay a $25,000 fine.