The Annual Philadelphia Mummers Parade Mocked Black Lives Matter and Caitlyn Jenner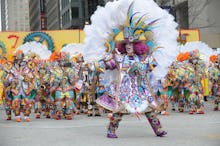 Every New Year's Day, Philadelphians ring in the new year with a tradition known as the Mummers Parade, an event featuring scores of marchers in elaborate costumers. At the 116th annual Mummers Parade on Friday, the revelers included costumes and dance routines mocking the Black Lives Matter movement and transgender personality Caitlyn Jenner.
One performance run by the Finnegan New Year's Brigade parodied Jenner, featuring a marcher dressed as Jenner fresh off her 1976 Olympics decathlon win, complete with the famous Wheaties box featuring her image. As Diana Ross' "I'm Coming Out" played, a group of face-painted nurses wheeled the actor into the crowd. A crude parody of Jenner in her Vanity Fair cover outfit then re-emerged as Aerosmith's "Dude Looks Like a Lady" played.
Participants in the parade also held signs that compared the 1976 Wheaties box to a 2016 "Froot Loops" box. People also caught Finnegan members shouting homophobic remarks to parade-goers. 
Philadelphia Mayor-elect Jim Kenney responded to the incident in a tweet Friday afternoon. 
Finnegan New Year's Brigade insisted on Twitter they are big fans of LGBT Philadelphians. 
NBC10 also reported that one man, John Holtz, was allegedly attacked by Finnegan Brigade members, who accosted him an alley while he was walking his parents' Shih Tzu. Holtz claims four members of the group verbally and physically assaulted him. 
"His buddy jumped in, clocked me in the face," Holtz told the network. "My friend ended up jumping on him and wrestled him, and before I knew it, they disappeared into the crowd and the cops were asking some questions."
According to NBC10, this year the city tried to increase diversity at the parade with a new group called the Philadelphia division, which included representatives from the city's Latino, black and LGBT communities. Despite the increased representation, some groups continued the parade's long and troubled history of blackface with a performance that poked fun at Latinos. 
One group, the Sammar Strutters, included a "Siesta Fiesta" theme. Members of the group, including children, wore sombreros and ponchos, fake mustaches, brown face makeup and, in a few cases, taco costumes. 
Adding to the racially charged displays, some people in the parade dressed as wenches and pirates held up signs that said "PIRATES LIVES MATTER" and "WENCHES LIVES MATTER," while actual members of Black Lives Matter protested down the block.