There's a New Dating Site for White People to Meet Each Other in Peace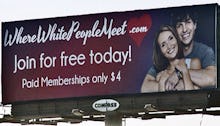 For those distracted by the black, brown and other faces of color on traditional dating sites, WhereWhitePeopleMeet.com has stepped in to solve your problem.
The site, which launched in early September, recently gained traction when an advertising billboard popped up outside Salt Lake City, Utah. In fact, membership has increased tenfold since Thursday, when the site had only 35 active members, according to the Salt Lake Tribune. As of press time, membership stands at 302 people. 
According to the site's welcome page, which features an image of the Statue of Liberty, Where  place for people to find their "Soul Mate." 
"People ask all the time 'Why White People Meet'? I always say, why not? Just about every other race, religion and walk of life have dating websites, so why not Where White People Meet?" the welcome page reads. 
The sole comment left on the welcome page reads, "Thanks for building this. I agree that we fully deserve our own site and it's great that someone is brave enough to build it! Thanks."
At least one person found the billboard ironic, given Utah's 91 percent white population. 
"I just thought it was kind of strange they would put it in Utah," NAACP Salt Lake branch President Jeanette Williams told the Salt Lake Tribune.  "A large population here is white. So you're going to put up billboards here so you can meet other white singles? Every day you can meet white singles."
She added, "Billboards are expensive." 
However, according to the website's blog post "Beginnings," anyone can join the community as long as they follow the golden rule — "treat others as you want to be treated" — and refrain from "rude, aggressive or racist behavior." 
The site's Twitter page has answered tweets from people accusing the site of racism, consistently stating that people of all races are welcome to join.
While the site does accept people of all races, it does not allow same-sex relationship searches. However, while they frown on gay relationships, they seem open to extramarital ones. 
According to the Salt Lake Tribune, one of the 35 profiles on the site as of Thursday included a person who identified as "married" and whose username referred to a sex act. As the Tribune noted, while the site's Terms of Use do address racism and bigotry, they do not address Ashley Madison-esque arrangements. 
Those wishing to join the site can pay anywhere from $4 to — oh, gosh — $69 for a membership. However, they may have to wait until the website has some new servers, as the recent internet attention has caused problems with accessing the site for the past few days.