Saudi Arabia Executes 47 People, Including Prominent Shiite Leader Sheikh Nimr al-Nimr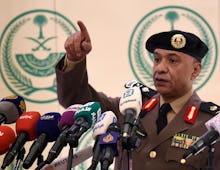 The government of Saudi Arabia executed 47 people, including prominent Shia Muslim, protest leader and government critic Sheikh Nimr al-Nimr, on Saturday.
The country's top cleric, Grand Mufti Sheikh Abdulaziz Al Sheikh, called the mass killing a "mercy to the prisoners" because it prevented them from committing more evil, according to the Associated Press. Al-Nimr's death in particular, as well as those of three other Shiite political prisoners killed during the executions, is likely to enrage Shiites throughout the region and further inflame tensions with the ruling theocracy of Iran.
The government of Saudi Arabia is dominated by Sunni Muslims.
The remaining prisoners were executed for "terrorism-related offenses," according to the Guardian, which also noted that in Saudi Arabia "can include anything from violent crime to peacefully insulting the king or the minister of interior over Twitter." According to the Washington Post, many of the prisoners were accused of working with al-Qaida.
International advocacy group Human Rights Watch told the Guardian the executions were "the most serious crime imaginable."
Protests broke out across the region in response, with people in Shia-majority Bahrain clashing with security forces working for the Sunni al-Khalifa regime that runs the country.
Large protests also formed as far away as Indian-controlled parts of the Kashmir region.
Saudi Arabia's reigning monarchy kept a particularly bloody grip on its populace in 2015, ushering in the year with a wave of executions. Across the country, over 150 people died at the hands of Saudi executioners through Nov. 20, the highest number of executions in the nation in 20 years.
Nimr was a prominent figure in the 2011 Arab Spring protests in Saudi Arabia, consistently calling for nonviolent action against the autocratic government based in Riyadh.
"Nimr had become a household name amongst Shiite Muslims around the world. Many had thought his execution would be a red line, and would further inflame sectarian tensions," University of Oxford expert Toby Matthiesen told the Post. "So this will complicate a whole range of issues, from the Syrian crisis to Yemen."
Despite Saudi Arabia's atrocious human rights record, the country remains a close U.S. ally and a major security partner in the region, purchasing billions of dollars of equipment from American defense contractors.