Ammon Bundy, Armed Militiamen Seize Control of Federal Wildlife Refuge Facility in Oregon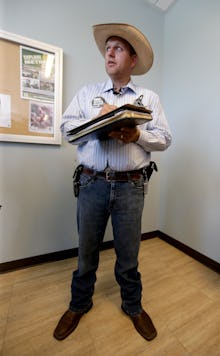 An armed militia group reportedly including Ammon Bundy, son of Nevada rancher Cliven Bundy, seized control of a federal building in rural Oregon on Saturday night.
According to the Oregonian, the group includes members of the Bundy family as well as "hard-core militiamen" who drove to the headquarters building of the Malheur National Wildlife Refuge following a march of 300 supporters in the city of Burns, Oregon. The group said they have as many as 100 persons occupying the building, according to the Oregonian, though Oregon Public Broadcasting's John Sepulvado reported the real number was more like six to a dozen individuals.
Ammon Bundy is the son of Nevada rancher Cliven Bundy, who organized an armed standoff in April 2014 against federal agents working for the Bureau of Land Management attempting to seize his cattle.
The feds were attempting to collect over $1 million in taxes the elder Bundy owed for grazing his cattle on federal land. For his part, Bundy refused to accept federal jurisdiction over the territories in question and organized a small army of armed right-wing militiamen to defend his claim. Ultimately, the federal authorities drew in order to preserve public safety.
The Willamette Week reports the original protest was in relation to the 2012 conviction of Harney County rancher Dwight Hammond, Jr. and son Steven Hammond, who in 2001, "[set] fires on federal land where they had poached deer" and destroyed 139 acres of BLM land. Both father and son were sentenced to five years in prison in October, according to the Week, which also reported the intent of the takeover was to "provoke a standoff with the federal government."
In a video posted to Facebook, a spokesman for the men who took over the refuge said "this will become a base place for patriots from all over the country to come and be housed here and live here. And we're planning on staying here for several years ... we're the point of the spear that's going to bring confidence and strength to the rest of the people and we're calling people to come out here and stand ... we need you to bring your arms and we need you to come to the Malheur National Wildlife Refuge."
According to Oregon Public Broadcasting, the hundreds of out-of-town protesters who arrived in Burns over the past several days have alarmed local residents, with some downtown signposts displaying placards reading "Militia go home."
FBI spokeswoman Beth Anne Steele told the Associated Press the agency was aware of the situation but had no further comment.
"The facility has been the tool to do all the tyranny that has been placed upon the Hammonds," Ammon Bundy told the Oregonian. "We're planning on staying here for years, absolutely. This is not a decision we've made at the last minute."