'New Girl' Season 5: Cast Updates on Megan Fox, Zooey Deschanel and Viewing Info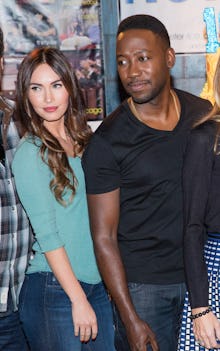 Mark Davis/Getty Images
New year, new New Girl: Jess (played by Zooey Deschanel) and the gang are returning for a new season of roommie hijinx and tangled romance after a more than six-month hiatus. Season 5 will premiere Tuesday, Jan. 5 at 8 p.m. EST on Fox; fans can tune in live or watch the full episode on Fox.com or Hulu starting Wednesday, Jan. 6. While Season 5 will see some shake-ups, fans shouldn't be disappointed: Forecasts promise a few new faces and all the manic pixie dream-girl calamity we've come to expect from the show.
"It's been a very fun, wild series so far," Hannah Simone — who plays Jess's best friend, Cece — told the Calgary Herald. "And it's only getting weirder in Season 5."
Weird in the best way, we hope. Hold onto your hats, friends — here's everything we know about Season 5 so far.
Who will be there: Starting with Episode 6, Megan Fox will take up a recurring role as pharmaceutical rep Reagan, according to Entertainment Weekly. Reagan joins apartment 4D as a subletter, and as Simone told the Calgary Herald, things get interesting when the boys learn that Reagan and Cece used to date. What does this mean? A shower scene, for one thing. Yep.
Who won't: Why does the gang need a subletter, readers may ask? Deschanel gave birth to daughter Elsie Otter last July, which threw a wrench in the production schedule, according to Glamour. In order to allow the actress maternity leave, Jess is briefly written out of the plot, forced to vacate the apartment for a few weeks while doing her civic duty as a juror. While Jess is presumably being bored to tears on jury duty, Fox keeps dynamics in the apartment exciting. See below for spoilers.
Coach is out for the count — Damon Wayans, Jr. will not return for Season 5. The show neatly tied up his story in the Season 4 finale, when Wayans-as-Coach agrees to accompany a new, cello-playing love interest to New York City. 
Spoilers: Is it a spoiler to say that the men of 4D have a tough time controlling their feelings for Fox's character? Probably not. This being a sitcom, a love triangle is par for the course: According to TV Line, Winston (played by Lamorne Morris) sets his sights on Fox-as-Reagan, but is disappointed when he realizes that she only has eyes for Nick (Jake Johnson). What does that mean for everyone's favorite former couple, Jess and Nick? Fans will have to be patient. "I have no say," Johnson told TV Line, speaking about a potential reunion. "But from what I understand, if they're going to come back together, it's going to be at the end of the series."
Where is ladies' man Schmidt (Max Greenfield) in all of this? Getting ready to marry Cece and, according to TV Line, being a "Groom-zilla" about it. The on-screen pair announced their engagement in Season 4's finale, and Season 5 opens with their engagement party, previewed below. Fans can look forward to a Bollywood dance number featuring Johnson and Greenfield, and to Deschanel outfitted in arm and leg casts after a tumble down some stairs. In reality, an effort to hide her baby bump in typical New Girl-awkward style. 
How to watch: Season 5 premieres Wednesday at 8 p.m. EST on Fox. Viewers can watch all episodes of New Girl after they air on Fox's website and on Hulu. Watch a teaser for the Season 5 kickoff below: