Quadrantid Meteor Shower: Livestream and Viewing Tips for First Meteor Shower of 2016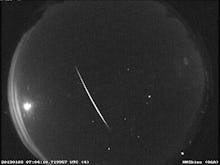 NASA
2016 is off to a dazzling start: Stargazers will be able to watch Quadrantid meteor shower streak across the sky early Monday morning, at about 3 a.m. EST for those in the United States, according to NASA. According to the agency, the light show could be spectacular or a dud for U.S. watchers — it all depends on predictions. The peak of the shower will last about two hours, NASA said.
What is the Quadrantid meteor shower? The Quadrantids, which were first observed around 1825, are named for constellation Quadrans Muralis, which no long exists, according to EarthSky. Astronomer Peter Jenniskens discovered that the Quadrantid's parent body may be asteroid 2003 EH1, but it is not entirely clear where the Quadrantids — which are located between the constellations Bootes the Herdsman and Draco the Dragon — originated. 
While most meteor showers have a peak of two days, the Quadrantids is much shorter — just a few hours, according to NASA. The Quadrantids are known for their bright, fireball meteors. At its peak, the shower will produce approximately 80 meteors per hour.  
Read more:
How to watch: The Quadrantid meteor shower is best viewed in the North Hemisphere — if the forecast is correct, according to EarthSky. According to the International Meteor Association, the best viewing time will be 8 Universal Time (translate your time zone to Universal Time here). It's best to find an area well away from city or street lights to view the meteor shower, according to NASA. The agency suggests lying flat on your back with your feet facing northeast and to bundle up. 
If you don't want to brave the cold, fear not: Slooh.com will livestream the meteor show starting at 7 p.m. EST. 
If you miss the Quadrantid meteor shower, Comet Catalina is coming between Jan. 14 to 17. Happy gazing!