Colorado Meat Company Fires 150 Muslim Workers After Prayer Dispute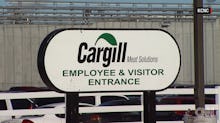 A meat-processing plant in Fort Morgan, Colorado, has fired 150 Muslim workers following a dispute over prayer.
CNN reports the workers, Somalis who had come west looking for work, had their employment at Cargill Meat Solutions terminated after 11 workers asked to pray at the same time in a company prayer room, then were asked to split into smaller groups to avoid hurting production quotas. The workers complied but 10 of them resigned the same day, according to CNN, and 150 fellow workers ended up skipping work for three days in protest.
Cargill Meat Solutions spokesman Michael Martin told CNN it fired the workers under a pre-existing company policy regarding workers who miss three consecutive days without explanation. However, Jaylani Hussein, executive director of the Council on American-Islamic Relations, told the Denver Post some workers were told, "'If you want to pray, go home.'"
The company is now hiring to replace the workers, but says it may waive a standard six-month minimum waiting period before employees may re-apply — if some of the Somalis wish to return.
The Post reported in 2011 that Fort Morgan, a town of 12,000, had experienced an immigration wave of 1,000 to 1,200 Somalis in the "past six years." That same year, the paper wrote the Cargill plant was having difficulties accommodating all daily prayer requests from its growing number of Muslim employees, and noted the plant could not sustain production levels of 4 million pounds of beef daily if they had to shut down the production lines.
"It don't matter if I don't have a job, my religion is more important," fired employee Tony Aden told CBS News.