Saudi Arabia Severs Diplomatic Relations With Iran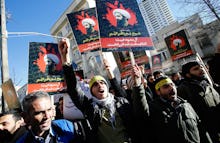 One day after demonstrators attacked the Saudi Embassy in Tehran in retaliation for the execution of Shiite leader Sheikh Nimr al-Nimr, Saudi Arabia announced it is severing ties with Iran, according to the Associated Press. Saudi Foreign Minister Adel bin Ahmed Al-Jubeir ordered Saudi diplomatic staff be evacuated from Iran, and that all Iranian diplomats leave Saudi Arabia within 48 hours, BNO News reported.
Iran's supreme leader, Ayatollah Ali Khamenei, said in a statement on his website Sunday "divine vengeance will befall the Saudi politicians," for al-Nimr's execution.
As Mic previously reported, the Saudi government executed 47 people, including al-Nimr, for "terrorism-related charges." When news of the execution broke, Iranian protesters gathered in front of the embassy, some throwing rocks and Molotov cocktails, the AP reported. The U.S. State Department called for Iran to protect the Saudi Embassy, and a spokeswoman told reporters "we condemn in the strongest terms any attacks on diplomatic properties." Iran President Hassan Rouhani also condemned the embassy attacks, the Guardian reported. 
Al-Nimr was a staunch critic of Saudi Arabia and Bahrain, according to the BBC. He was one of four Shiites killed in the mass execution, the Washington Post reported, and was a leader among the country's Shiite minority. 
"Wrong, misled and mistaken [are] those who think that the killing will keep us from our rightful demands," al-Nimr's brother, Mohammed al-Nimr, tweeted following the execution, according to the Post.
Jan. 3, 2016, 4:21 p.m. Eastern: This story has been updated.