Chris Brown Accused of Punching Another Woman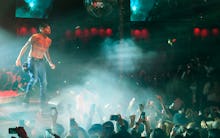 Singer Chris Brown, who pleaded guilty in 2009 in an infamous felony case involving the brutal beating of fellow musician and Brown's then-significant other Rihanna, is in trouble yet again for allegedly hitting another woman.
USA Today reports the Las Vegas Metropolitan Police Department is investigating allegations Brown was in a suite at the Palms Casino Resort after playing a New Year's show in the city when he seized the cell phone of a woman trying to take a photo with him and beat her, leaving her with minor physical injuries.
The woman was then removed from the private party, after which point hotel staff escorted her out for causing a disturbance, according to the L.A. Times. Detectives responding to the incident could not find Brown, as he had already left the hotel.
In a post to Instagram written late Saturday night, Brown seemingly acknowledged the accusation, writing "Keeping my circle small in 2016! I'm done taking the care of grown ass men. And I'm going to be hella rich after all the lawsuits I file from these crazy individuals who keep lying on my name. Happy NEW YEAR! Time for some of us to grow the fuck up!"
A representative for Brown told the Associated Press the allegations were untrue and the woman had fabricated a story after being removed from a private party by security for being disruptive. The representative said the woman was waiting for security to retrieve her cell phone from the event when she "had a total meltdown, throwing her purse to the ground and claiming that she 'could buy everyone in the hotel,' as witnessed by numerous people waiting to get into the party."
However, Brown has a long history of alleged physical violence. The Palms casino is the same place where Brown was accused in May of assaulting a man following a basketball game, though no charges were pressed in that incident.