Starbucks' New Latte Macchiato Isn't Really New for the Coffee Company — Here's Why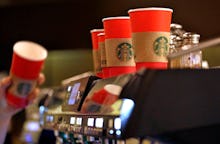 Elaine Thompson/AP
Anyone who's ever spent time "on bar" pulling shots of espresso knows one thing all too well — coffee drinkers can be particular about their beverages. The ratio of milk to espresso matters, as does the process by which the two liquids are combined. That's why the latest news from coffee giant Starbucks may interest some caffeine fiends — the mega coffee retailer is allegedly re-introducing latte macchiatos to its list of offerings.
However, the drink is not exactly a brand new addition to Starbucks' menu, according to the fan-curated Starbucks blog Starbucks Melody. The site's chief author, who is based in Seattle and has been called the "most prominent Starbucks blogger," explains in a blogpost that Starbucks' latte macchiatos date back to at least 1990 in the U.S.
"Lo and behold, beginning Jan. 5, 2016, the Latte Macchiato will make its comeback!" reads the blog post. "Earlier this month, Starbucks launched a digital coffee passport which includes a section on espresso beverages. The Latte Macchiato is already listed in it, as if to get ready for the next promo! It's no secret!"
"I have a 1990 booklet that's very similar and it lists the same drink," it reads. "I think this was a standard espresso beverage offering at Starbucks from the very beginning to about the mid -1990s. While Starbucks was founded in 1971, the company didn't sell espresso drinks before 1984. Howard Schultz took control of Starbucks in 1987, creating what it is today."
This isn't to say that Starbucks is trumpeting the notion that the Jan. 5 switch-up to its menu is in any way pioneering — as the blog post also points out, the beverage is already available at a number of Starbucks locations around the world, including in Europe, where the style of coffee has been widely popularized. 
For some coffee drinkers, the latest change could be a welcome addition to Starbucks' menu. Though that remains to be seen, considering one thing that we've seen in recent months is that when Starbucks makes tweaks, like its red cup controversy over the holiday season, its devoted customers have options. 
Either way — new year, new options.