'Biggest Loser' Season 17: Full Preview, Host and How to Watch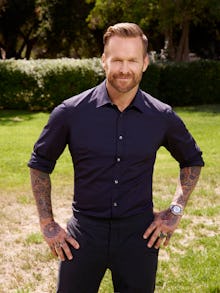 NBC/Getty Images
The well-known weight loss transformation reality series The Biggest Loser is back on NBC on Monday at 9 p.m. for its latest and 17th season, titled The Biggest Loser: Temptation Nation according to NBC. But along with the new season is a new host (and former trainer) Ben Harper, a new gym, new house and competition format. Dolvett Quince and Jen Widerstrom also return from last season to train the competing eight teams of two contestants. 
The theme of the new season is "temptation," meaning the contestants will be put in situations both on and off-campus, where they will need to learn to resist real-world temptations, such as certain foods, money and electronics, all in the name of a healthier lifestyle—and a $250,000 grand prize, according to NBC. 
"This season is going to be completely different, it's going to be raw, it's going to be exposed, it's going to be a lot more volatile," Harper says in a promo. "Because if you can't resist temptation and you make bad choices, well then, you don't stand a chance."
The new theme is inspired by those contestants who reverted back to their old and unhealthy habits, undoing the work of the show, according to the Seattle Post-Intelligencer. In the first episode, contestants hop on treadmills and are offered up to $25,000 to just quit and go home, the Seattle Post-Intelligencer reported. 
Each team has an emotional backstory, ranging from those battling with the loss of a father or a son and a couple trying to start a family. Seven of the eight teams will already know each other, including twin brothers, spouses and a mother-daughter duo. 
The eighth will be strangers who have a reality show background in common, consisting of Survivor's initial winner Richard Hatch and Erin Willett, a semi-finalist from The Voice, according to NBC. 
Along with the new team set-up, there'll also be two scales at weigh-in so both teams can go simultaneously, according to NBC. 
Harper has been a part of the show since its first season in 2004, according to People. He graduated to the host role after Alison Sweeney, who hosted for eight years, left.
The sneak preview for the new season is below: