These Are the Trends We Want to See in Movies and TV in 2016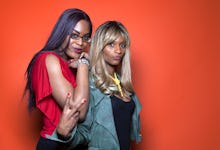 Pop culture in 2015 was all about change. Whether that change was in the kind of performers Hollywood casts and rewards or in the kind of stories told, movies and TV didn't just look like they had in the past last year. Finally, after years of frustratingly little representation for nonwhite, non-cis male actors, there were flickers of something else to come.
But these flickers were just that: hints of what's to come, not sweeping reform. The ACLU is still investigating Hollywood's sexism, and some high-profile stars still don't get the hubbub about what needs changing.
There are four specific areas Hollywood and pop culture could stand to grow in this year. Here are the trends we want to see in movies and TV in 2016.
Greater visibility for trans actors
Works like Transparent and The Danish Girl are, on their surfaces, huge boons to the trans rights movement. Telling complex stories about trans women, especially as beautifully as Transparent does, helps to bolster recognition and understanding of trans people in real life. However, neither protagonist in Transparent nor The Danish Girl is actually played by a trans woman. The progress is therefore good, but conditional.
In 2015, Tangerine shook up the LGBTQ storytelling landscape by putting its trans stars at the forefront not just of the camera, but of the movie's creative direction. In addition to starring in the buddy dramedy, actresses Kitana Kiki Rodriguez and Mya Taylor also helped effectively 'translate' the script from director/writer Sean Baker's words to their own. The end result is impressive — and evidence of what listening to someone with a distinct point of view can do to bring a story whole new resonance.
Furthering the surging (and profitable) trend of diversity
The argument for putting more non-cis actors in front of the camera applies to nonwhite actors as well. In 2014, white characters composed 73.1% of all characters seen in the year's top 100 films. There were some important surges — the box office performance of Straight Outta Compton, featuring a nearly entirely black cast — but the upcoming Oscar nominations look to be as white as ever.
What's so maddening about this trend is that representing a wide swath of the audience makes money. The success of TV shows like Empire and How to Get Away With Murder is proof-positive of that. Looking to the next season of new series and to the films currently in development, it would be wise if networks and studios took that success to heart. Pop culture can always do better on a representation front.
Stories written and directed by women
How do you get those nonwhite, non-cis, non-male voices in front of the camera? You include them behind the camera. A September study came to exactly that conclusion: Women creators hire more women performers. Considering we live in a world where producer Effie Brown has to make that point to no less than Matt Damon in this season of Project Greenlight, Hollywood clearly has a ways to go.
As Vulture noted when they published "100 Woman Directors Hollywood Should Be Hiring," the excuse that there aren't any qualified women to take the helm is hogwash. They're there, they've got the skills and they should be taking on more than just 2% of the top 100 films in a year.
Ambitious series that take place in unusual settings
Even if TV were suddenly filled with women, trans creators and actors, people of color and more, the series themselves would only be as good as the stories themselves. Representation is only half the battle; the series that promote diversity have to hook audiences and critics. 
Luckily, there's progress being made here that can only grow. Unreal, Lifetime's 2015 drama set behind the scenes of a Bachelor-esque TV show, featured a cast that was predominantly female. The story was no less complex, and the setting no less unique, just because it was about women. It was a great, ambitious show in its own right that also represented its audience well. 
If network, cable and streaming TV can produce more hit shows with that level of ambition, the Golden Age of TV won't be ending any time soon.