This iPhone Case May Up Your Selfie Game to Beyoncé Levels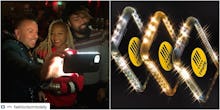 When it comes to taking great selfies, you've got essentially two things to work with: composition and lighting. (Since, you already have the subject matter down, obviously.)
Which is why the buzziest new iPhone case, Ty-Lite, may be a game-changer. The darn thing actually comes with built-in lighting around the perimeter of the case that's meant to get the perfectly lit selfie every time. And given that the genius behind the case is Beyoncé's stylist, Ty Hunter, we're expecting nothing less than a Beyoncé-like glow every time.
Many smartphones already come with built-in, front-facing lights for photos (as many Snapchat experts are well aware of). But as we all know, that's not enough these days.
The case, which Hunter unveiled on his Instagram about two weeks ago, does away with the need for extra lights. On sale for $79.99 for certain iPhone and Android models, the case comes with three light settings — cool, warm and brilliant — and each can be dimmed, according to the product's website. 
Since the lighting comes from the phone case and not the phone itself, it's also perfect for FaceTiming, which is how the idea for the phone case came about. Hunter was FaceTiming with a friend in bed and wanted to look good while doing so, according to Glamour. 
"I'm such a selfie king and just wanted that extra light," Hunter told Glamour. "Light is so important to look your best." 
He's not kidding. 
Read any celebrity interview in which they're asked about their selfie tips, and they will tell you great lighting is the biggest factor. Alessandra Ambrosio, one of the most photographed Victoria's Secret models, revealed that she improvises with a handy dandy handheld light.
And Gigi Hadid, queen of social media, told Refinery29 her one secret for the perfect selfie is simple: "Good lighting! Stand next to a window."
Now she doesn't need to — she can just join the crew of celebrities testing out the new Ty-Lite case:
While we haven't yet tried the case and can't guarantee celebrity-worthy pics, we can be sure of one thing: If you were wondering how much selfies had infiltrated our culture, this should be the only sign you need in 2016.
h/t MTV U.K.