Netflix Documentary 'Making a Murderer' Fuels Support for Steven Avery, but Will It Help?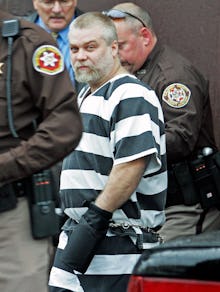 MORRY GASH/AP
From streaming giant Netflix comes the latest runaway hit documentary series everyone's talking about, Making a Murderer, which Forbes has called Netflix's "most significant show ever." The plot of the series chronicles the story of one man, Steven Avery, a 53-year-old from Manitowoc County, Wisconsin. After being convicted in 1985, at the age of 22, for sexual assault, Avery spent 18 years in prison. However, when a post-conviction investigation revealed new information, Avery was exonerated in 2003. 
Without giving too much away, it's safe to say that Avery's story has risen rapidly in the public consciousness as of late, and no shortage of ink is being spilt theorizing about the case's intricacies — not least of which is the detail that Avery had a credible alibi at the time the crime he was accused of was committed.
"Avery presented 16 alibi witnesses, including the clerk of a store in Green Bay, Wisconsin, who recalled Avery, accompanied by his wife and five children, buying paint from the store," reported the Innocence Project, a nonprofit organization that works on behalf of wrongly-accused persons. 
"A checkout tape put the purchase at 5:13 p.m. Beernsten put the attack at 3:50 p.m. and estimated it lasted 15 minutes, which meant that Avery would have had to leave the scene of the attack, walk a mile to the nearest parking area, drive home, load his family into the car, and drive 45 miles in just over an hour."
Yet that evidence and other indications of his innocence weren't enough to save Avery from his 18-year-long stint in jail. And the story doesn't stop there. Littered with accusations about the handling of the case and the supposed injustice of Avery's incarceration, the documentary series has captured the interest of viewers, and fans of the show are now devotedly plugged in to see what happens to Avery next. The reason? In 2005, Avery was convicted on separate murder charges and was sentenced to life in prison — and some think it was due to bias against the convict's character. 
The hype around Netflix's new show has not only put a spotlight on the alleged failings of the justice system, it has also drawn new attention to grassroots efforts to enact change in the face of those alleged failings. The public is now clamoring for justice. Time reported that a petition for Avery's pardon has garnered 100,000 signatures as of Sunday. On Monday, the Washington Post reported the petition's number of signatures had grown to 170,000. 
The situation is a familiar one, considering the hit podcast Serial from WBEZ's This American Life that inspired a similar public reaction last year. Adnan Syed was convicted of murder and eventually granted a retrial, a development some speculated could have been due to rising public interest in the case thanks to the podcast's popularity. Yet even after reporting new developments to that case last year, the show's lead host, Sarah Koenig, pointed out in a blog post that solid evidence doesn't necessarily translate to swift justice. 
"The back and forth of this post-conviction fight is not over," Koenig wrote. "From my old friend David Nitkin (formerly a Baltimore Sun colleague, now a spokesman at the AG's office): 'The Office of the Attorney General is reviewing Mr. Syed's latest filing and a decision on whether and how to reply is pending.'"
Whether public interest in Making a Murderer could mean renewed interest in Avery's case, as we've seen in the case of Serial's Syed, has yet to be seen.