Chris Brown Responds to Accusation He Punched a Woman in Vegas Calling Her an "Ugly Bitch"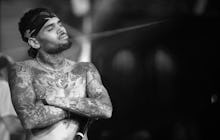 Chris Brown, the singer famous for his sultry hits "Loyal" and "Run It!" and infamous for pleading guilty to beating then-girlfriend Rihanna, is under investigation for another incident of battery.
A woman named Liziane Gutierrez says she attended a private party Brown held in a suite in the Palms Casino Resort in Las Vegas after performing a New Year's show. She claims she managed to get a cellphone past security, and when she snapped a picture of Brown, she provoked his anger and he punched her in the face. 
Brown denied the allegations in two statements — one official and one less than official.
His official statement, released through Vibe, states Gutierrez's story is "unequivocally untrue." In another video, posted to Instagram but since deleted, Brown uses far harsher language to describe his accuser.
"I don't know this old-looking bitch," Brown says in the video, preserved by TMZ. "This bitch is old, like dusty ... She probably came to my room and was too ugly to get in."
"Look at her in the Jason Derulo video," Brown says, citing a video that dates back to August, when Gutierrez attempted to leave a Las Vegas performance with Derulo, only to get turned away from his van at the last minute. Brown suggests the same thing happened at his own party. "She came to Vegas," he said. "She probably came to my room and was too ugly to get in."
The tone of Brown's statement video matches another Instagram post from Sunday, which Brown has kept up, and seems to address the incident.
"Keeping my circle small in 2016!" he wrote. "I'm done taking the care of grown ass men. And I'm going to be hella rich after all the lawsuits I file from these crazy individuals who keep lying on my name. Happy new year! Time for some of us to grow the fuck up!"
Brown's statement gives an alternate version of Gutierrez's story. In the official story, Gutierrez was escorted out of Brown's party for being "disruptive and out of control," only to have a "total meltdown-throwing her purse to the ground and claiming that she 'could buy everyone in the hotel.'"
Gutierrez responded to Brown's statements with a video of her own. She says she's been receiving death threats from some of his fans and threats others are waiting for her outside her home. In the video, she also addresses the Derulo incident. "This thing between me and him was one thing that happened," she says, speaking directly to Brown. "If you want to talk about the past — who do you think has a worse past? Me or you?"
Brown does have a history of physical violence that goes beyond the Rihanna incident. In July 2013, Brown reportedly beat up a man for calling a foul on him during a pickup basketball game. In October 2013, Brown was charged with a misdemeanor assault for breaking a fan's nose, which nearly sent him to prison for violating his probation. Another brawl in May took place basketball court at the same hotel where the Gutierrez incident took place, though in that case the victim declined to press charges.
In the present case, reported TMZ, Brown will likely be attempting to file his own lawsuit against Gutierrez for defamation, according to sources close to the singer. The truth, one would assume, will come out in court.