Instagram Users Are Ripping Chris Hemsworth Over Racist New Year's Eve Party Photo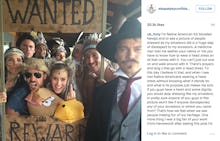 For the past four days, a heated debate has taken place in the comment section of an Instagram photo posted by Elsa Pataky, the Spanish-born actor and model whose husband, Chris Hemsworth, rose to fame playing Thor in the Avengers movie franchise.
The photo in question shows Pataky and Hemsworth at a "Wild Wild West"-themed New Year's Eve party on Dec. 31, sporting darkened hair, warpaint and a headband meant to connote traditional Native American garb.
At least five other guests are dressed similarly in the photo, which has garnered over 20,000 "likes" and more than 400 comments since it was posted New Year's Eve. The image has also sparked backlash among critics, who bemoan the partygoers' use of cultural appropriation in their costumes.
"I'm Native American, full-blooded Navajo," one commenter wrote, "and to see a picture of people dressed as my ancestors did is a huge slap of disrespect to my ancestors. ... I was a big fan of your work, Chris Hemsworth, [but] after seeing this post, I'm no longer a fan."
Another added, "As a Native American woman and a fan of all your movies please know how hurtful this is to myself and all my Native people. This picture is an example how these stereotypes are so damaging to Native children's view of themselves. Everyone can learn from this mistake and use this as a platform to bring awareness to this issue!!"
Cultural appropriation — or taking properties, expressions or artifacts from other cultures without permission — has reached the forefront of popular debate over the past two years, with celebrities like Miley Cyrus, Taylor Swift and a fair portion of the Kardashian clan coming under fire for using stylistic cues rooted in other cultures, particularly black culture, as accessories.
The debate has been equally charged when it comes to Native Americans, whose traditional garb often holds religious cache that appropriators fail, or simply decide not to, recognize.
"My brother is a chief, and ... warbonnets are how we honor him," Bethany Yellowtail, a Cheyenne-Apsaálooke fashion designer, told Mic in an interview in May, referring to the feathered headdresses worn as symbols of honor in many indigenous cultures. "You don't just run around and parade in it."
"Wow! Eveything [sic] out there offendes [sic] everyone! Get the hell over it! People have been dressing up as cowboys and Indians for years and years!" — Instagram commenter
Fashion mogul Heidi Klum, music artist Pharrell Williams and a broad swath of the Coachella-going community have faced similar criticism lately, with some music festivals going so far as to ban warbonnets from their premises altogether. 
"Bass Coast Festival takes place on indigenous land, and we respect the dignity of aboriginal people," a July 2014 Facebook post from the Bass Coast Festival in British Columbia, Canada, read. "We have consulted with aboriginal people in British Columbia on this issue, and we feel our policy aligns with their views and wishes regarding the subject. Their opinion is what matters to us."
At Yale University, similar debate over culturally insensitive Halloween costumes — among other issues — led to the resignation of one professor in December.
Yet despite the near-constant criticism that surrounds it each time it comes up, many still struggle with the concept of cultural appropriation. "Wow!" wrote one commenter on Pataky's post. "Eveything [sic] out there offendes [sic] everyone! Get the hell over it! People have been dressing up as cowboys and Indians for years and years! They are not being disrespectful to you. They are just having fun."
Pataky and Hemsworth are transplants to the U.S. — she is from Spain; he is from Australia — but both their native countries have fraught-enough histories concerning the treatment of indigenous people that this debate cannot be entirely unfamiliar. Meanwhile, neither actor has responded to criticism of the photo.
h/t Indian Country Today Media Network