Jaden Smith Shows Style Has No Gender as Louis Vuitton's Newest Womenswear Model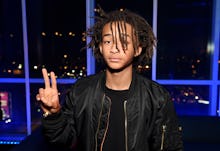 Somebody call Tyra Banks because Jaden Smith is still in the running toward becoming America's next top womenswear model.
The 17-year-old actor and rapper is the new face of Louis Vuitton's spring and summer collections. Louis Vuitton creative director Nicolas Ghesquiere made the announcement on Instagram over the weekend with two preview snaps of Smith alongside other models in the campaign. The decision comes only one week after Louis Vuitton announced that Lightning, a Final Fantasy character, is its newest face. 
"Happy to introduce Jaden Smith @christiaingrey in the new SS16 @louisvuitton ad campaign photographed by Bruce Weber," Ghesquiere wrote. 
Most people seem to be a fan of the choice. 
Though Smith is not the first celebrity to rock the gender-swap style, his recent string of sartorial choices has made him a fashion house's dream. Smith has become a fashion icon in recent years because of his whimsical style that disregards gender and cultural norms. He rocked a dress to prom with Hunger Games star Amandla Stenberg and wore a flower crown to Coachella in 2015. In June, the Huffington Post praised Smith for being a #carefreeblackboy, placing him in a long tradition of black men who redefine black masculinity. 
"[Willow and I] both don't really care," Smith told New York Times Magazine in November 2014. "I like to wear things that I make, but I throw it on as though I was throwing on anything. It looks cool, sometimes." In an October GQ article, he said he has one life goal: "I just want to teach people how to be comfortable. Stop being so scared." 
You can see more of Smith's fashion choices, and a lot of blank white boxes, on his Instagram. 
Get the five stories that will challenge you to rethink the world by signing up for MicCheck Daily.