Colton Haynes Had a Pretty Chill Response to Rumors of His "Secret Gay Past"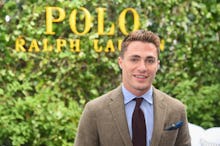 Colton Haynes, the Teen Wolf heartthrob-in-a-conventionally-attractive-kind-of-way, kicked off 2016 by finally breaking his silence on the ongoing speculation over his sexuality and "secret gay past."
It all went down Saturday, when (the delightfully named) Tumblr user pornandmariah wrote in a post that knowing Haynes might be DTF with another dude gave him a sense of excitement and hope, even if the odds of them ever getting a chance to bone IRL were slim to none. 
"When I found out colton haynes had a secret gay past i got so excited even though i know it makes absolutely no difference in my life," he wrote.
In response, Haynes did a reblog and wrote "Was it a secret? Let's all just enjoy life & have no regrets :)." It was followed by a cute lil' emoji buffet. It was all very chill and NBD.
In referencing Haynes' past, the user was likely referring to a racy photo spread Haynes did during his teen years, in which he posed for a March 2006 issue of the gay rag XY. In the photos, he's depicted making out and generally being shirtless with another young man. Elsewhere on Tumblr are other photos of a young Haynes appearing to hold hands with a guy who might have been his boyfriend.
"If he is gay, he's trying to keep it secret. But, judging by the photos floating around Tumblr, Haynes was out of the closet, and Hollywood shoved him back in," wrote one gay blog last year. "We're not in the business of outing anyone, but the photos are ... pretty hot."
While a number of outlets have been quick to label Haynes' pithy new Tumblr post a "coming out" of sorts, it technically remains to be seen whether Haynes actually identifies as gay at the moment. And given the low-key yet coy social media move, fanboys and -girls may not want to hold their breath for any kind of official declaration one way or the other.
What we do know from his "enjoy life with no regrets" word choice, though, is he is clearly taking a v. YOLO approach to 2016. So who knows, maybe our friend pornandmariah could actually have a chance of getting lucky with him after all.
h/t Huffington Post